Ashford Natural Color Wool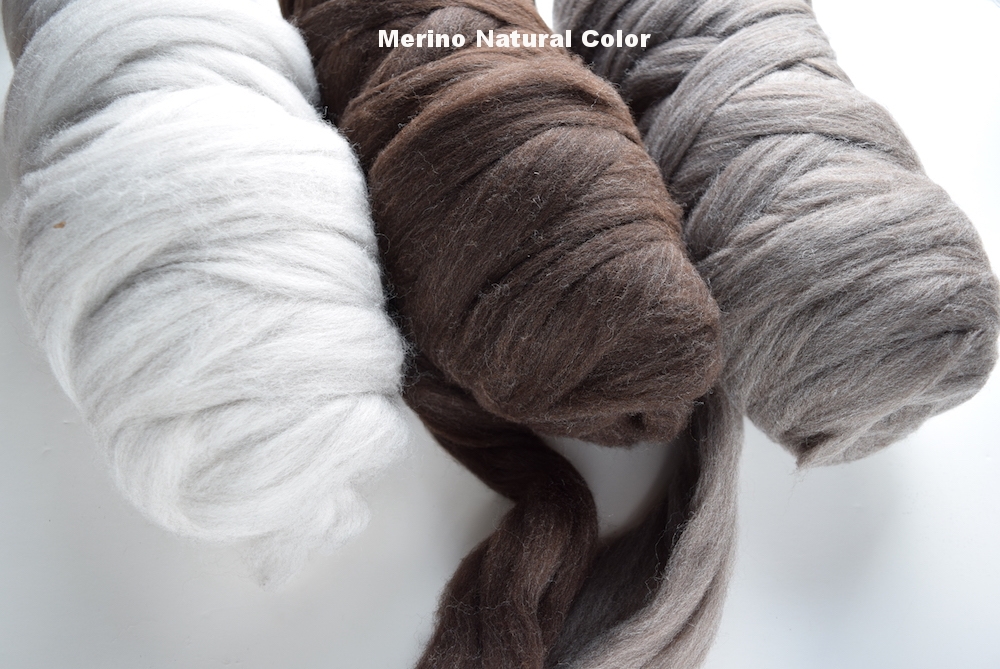 Ashford Natural Color Wool
Ready to spin wool roving. AKA Sliver.
Weights: KG = 1000g = 35.3 oz. ~ 500g = 17.6 oz 100g = 3.5 oz.
Available by Special order in Manufacturer Put up. Special Order Sales Final.
Click Here to order fibers IN Stock
Spin or Felt as is or hand dye to your special shade.
Listed below includes wool from minor or primitive breeds of sheep.
************************
Alpaca Natural white 21.5 micron
*************************
Perendale wool. Natural White Micron 30-32, Staple length approx. 5 inches. Natural white. Has high bulk with exceptional spring and resilience, so knitted garments are warmer and keep their shape. The wool is comparatively fine. A good all purpose wool, strong but light in weight for knitting and weaving.
***************************
Polwarth Wool Natural White wool from the Polwarth Sheep. 21 micron (58-60's count), with excellent length (4.5-5 inches) and crimp. Easy to spin with longer staple length. Definitely next to skin softness. Noted for its elasticity, durability it is still considered a delicate fiber with bounce and drape. Breed is from the crossing of Saxon Merino rams and Lincoln ewes.
****************************
Corriedale Wool - Micron 27-30. Natural colors available in: light grey, medium grey and dark grey. Staple length approx. 4.5 inches.
Corriedale wool has a defined, even crimp and is smooth and easy to spin or felt. You can spin a fine to medium woolen or semi-worsted yarn. Corriedale will bulk after washing and has good elasticity. It is ideal woven, knitted or crocheted. Handwashable. Lay flat to dry.
Corriedale wool fibers Felt well. Whether you are making traditional "wet-rubbed" felt or dry felting using a felting needle.
**********************
Merino Natural Color Merino 22 micron has the softest and finest wool of all breeds. Merino garments have superb drape, handle and resilience. Natural White available 22 micron or Super Fine 19 micron. Natural white 22 micron also in Superwash (will not felt or shrink)
*******************
Ashford Special Order or you wish to add to your Ashford New Zealand shipment. Weights/measurements are approximate. Click Here for details on Special Order shipments from Ashford New Zealand.
Ashford fibers are from New Zealand sheep. Wool from pasture-fed Corriedale sheep. New Zealand shepherds take great pride in the quality of their wool and the high standard of animal husbandry. The sheep are well cared for and are not mulesed. After the sheep are shorn, on the farm, the wool is carefully skirted and checked. Only wool that is sound, clean with good fiber length is selected. It is scoured (washed) using an environmentally-friendly, biodegradable detergent. The fiber is then gently opened and conditioned. Carding machines align the fibers and remove any foreign matter. It is then gilled and combed.
Black Blue Faced Leicester, Blue Face Leicester Mix, Jacob, Corriedale Dark Natural, Corriedale Medium Natural, English Herdwick, Falkland, Gotland, Lincoln, Norwegian Grey, Perendale, Polwarth, Portuguese Merino, Romney, Swaledale, Welsh Dark, Wensleydale