Glimakra Emilia Rigid Heddle Loom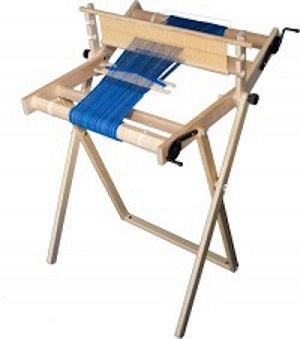 Glimakra Emilia Rigid Heddle Loom
A folding, portable rigid heddle loom that comes in two widths. Emilia is made of birch. It comes completely assembled and has a weaving width of 34 cm (13.5″) or 48 cm (18″).
Rigid heddle looms are a good, easy way to learn to weave. Three sizes of heddle reeds: 30/10 (8 per inch), 40/10 (10 per inch) and 50/10 (12 per inch) are available.
Included with loom: one rigid heddle reed (8, 10 or 12), 1 flat shuttle, a warping peg, 2 clamps, sley hook, threading needle and weaving instructions.
This is a Special Order item and not in stock at Fiber to Yarn. Will ship directly from the Glimakra U.S. distributor in Oregon.
Flat Rate Shipping limited to Continental U.S. Alaska, Hawaii select priority shipping when ordering.
OPTIONS; Extra Heddles, Second heddle brackets (Requires 2 reeds, same size), cloth carry case with an embroidered logo. Contact Elizabeth if you wish to add these options to your loom purchase.