Schacht 45" Standard Floor Loom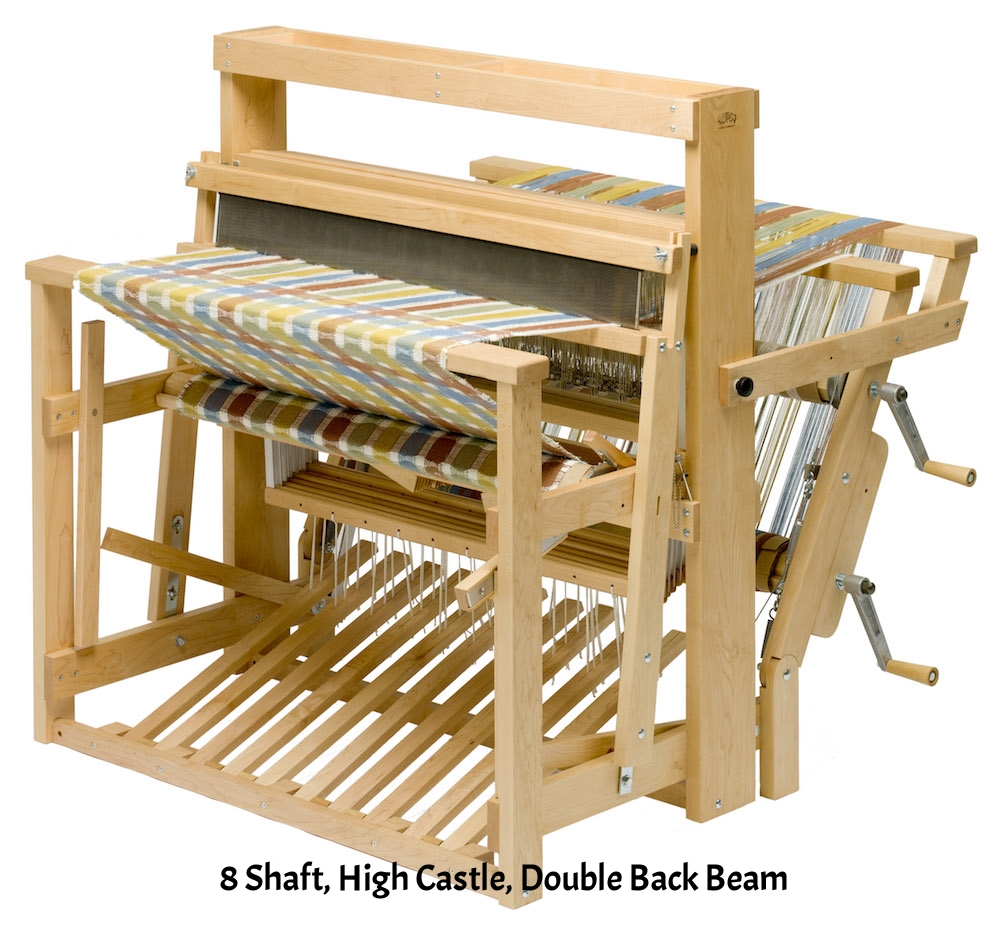 Schacht 45" Standard Floor Loom
Schacht Standard floor loom comes in two styles: The Standard Low Castle and The Standard High Castle. Though both looms take up identical floor space, the lower profile of the Low Castle model appears visually smaller. Loom includes 12 treadles.
A High Castle loom includes a storage tray and holes drilled in the top of the castle uprights for the swivel pin of an extension lamp, otherwise the looms function the same.
All Standard floor looms may be ordered with eight or Four Now-Four Later* shaft options. The number of shafts you choose will depend on the kind of weaving you intend to do. Though most weave structures can be woven on four shafts, additional shafts increase your pattern options extensively. If you have a keen interest in pattern drafting and weave structures, eight shafts will allow you to fully develop this interest.
The Schacht Standard floor loom has an under-slung jack mechanism to raise the shafts. The jacks pivot from two points equidistant from the center and lift the shafts by pushing up on the center point. Employs a parallel lamm system which gives the loom a light treadling action. Because of this parallel lamm, it isn't necessary to adjust the tie-up cords.
The tie-up system is quick and easy to use. Pre-measured nylon tie-up cords hang from the lamms and are attached to a treadle by sliding the appropriate cords into the treadle slot. This makes changing tie-ups very fast.
Other special features of Schacht Standard floor looms include: friction reducing aluminum shaft channels, a back beam which folds with or without a warp on the loom, removable back and breast beams, and an adjustable open-sided beater. Our braking system employs a ratchet and dog on the cloth beam and a friction brake on the warp beam. This combination give you precise tension control at all times.
*"Four Now – Four Later" (4N4L) is an eight harness loom shipped with only four harnesses installed, but with the capacity to add an additional four harnesses. You can purchase a kit to add four harnesses at a later time. 4N4L looms are shipped with all the heddles, tie-ups and other items normally included with an eight harness loom.
Loom Options: Maple Sectional Beam, $289. Cherry Sectional Beam, $306. Maple Double back beam, $682. Cherry Double Back Beam, $7243. Raddle, $150. If you would like to add any of these options to your loom order, leave message when ordering and be invoiced total due.
Already have this loom? 4 Later Kit Maple, $921. 4 Later Kit Cherry, $1076. Options only can be ordered, options under $500 subject to shipping charges. Contact Elizabeth with your order.
Flat Rate Shipping limited to Continental U.S. This loom must ship by Freight. Alaska, Hawaii, contact Elizabeth for shipping arrangements.

Save $100 on your new Floor Loom purchase. Make payment by check. Contact Elizabeth with your order details. Will invoice you total due.
Loom will ship direct from Schacht in Colorado. Looms are made to order just for you, expect ship delay approx. 4-5 weeks.
Do not select USPS Priority Mail Shipping when ordering. Too large to ship by post.
Last day to order for Christmas Delivery within continental U.S. - Nov 8
Specifications: Weaving width 46". Overall width 53". Height at Breast Beam: 32". Height Low Castle: 37" Height High Castle:46". Depth Open: 38". Depth Folded: 26" Weight: 8H 141 lb4N4L 125 lb. Stainless Reed: choice of 6, 8, 10, 12 or 15 dent. Inserted eye or Texsolv heddles: 1000